Let's define Schlandizität s(n) (Schlandizität is German for schlandicity) as the number of search results Google returns for the word schland, with n the number of as in schland, i. e., schlnd gives s(0), schland gives s(1), schlaaand gives s(3), and so on.
When we plot the data, we get (logarithmic axis of ordinates):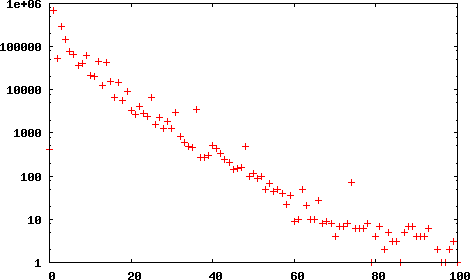 An interesting result is that the first n for s(n) = 0 is 94, i. e., schlaaaaaaaaaaaaaaaaaaaaaaaaaaaaaaaaaaaaaaaaaaaaaaaaaaaaaaaaaaaaaaaaaaaaaaaaaaaaaaaaaaaaaaaaaaaaand. And by writing this, I've made sure that it doesn't stay that way.
(If you are wondering WTF this is about: it's about soccer.)