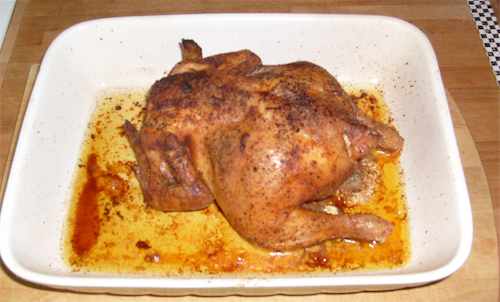 This one is so dead simple that it is hard to call it a recipe.
Ingredients:
One delicious plump-breasted chicken
Some paprika spice
Salt
Calories:
Surprisingly few for all the nutrients it offers; chicken is mostly protein.
Preparation:
I suppose you bought a dead chicken, already plucked, without giblets. If not, first kill it, pluck it, remove the giblets.
Preheat the oven to a high temperature (250 °C, that's 480 °F for those using funny units). Sprinkle paprika spice and a generous amount of salt on the chicken and rub it in. The whole skin should be covered with paprika and salt. Now put the chicken in a pan and in a oven (so that the juices the chicken leaks won't ruin the oven). Have it in there for 30 minutes at the high temperature, then turn the temperature somewhat down and let it roast for another 30 minutes. Take it out and enjoy!