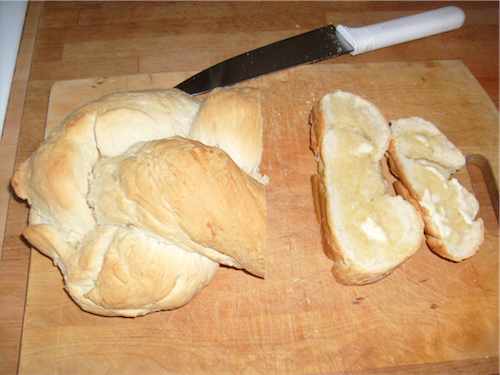 Well suited for afternoon coffee (or tea).
Ingredients:
Flour, 500 g
Sugar, 10 g (or 100 g, if you have a sweet tooth)
Salt, 1 teaspoon
Milk, 250 ml
Yeast, fresh, 1 cube à 42 g
Butter, 75 g
Calories:
Yeah. More so with butter on it.
Preparation:
This is a yeast dough, so preparation is quite generic. Warm milk in a pot to body temperature. Dissolve sugar in it (the low-sugar variant uses the sugar only to get the yeast started). Put the butter in it, let it melt. Now crumble the yeast into the milk. Sieve the flour into a bowl, add salt. Form a pit in the flour, pour the milk into it. Mix flour and milk until you get a smooth dough. Now put a cover on the bowl and let the dough rest, for at least 30 minutes, in a warm place. Afterwards, knead the dough, cut it into three pieces, form these into three strands, and braid these. Let the Zopf once again rest in a warm place, for another 30 minutes. During this time, heat the oven to 200°C. Put the Hefezopf into the oven, bake for 30 minutes. Take it out, let it slightly cool, and eat it.
Notes:
It's best when still warm. Cut it in slices, spread some butter on it, enjoy! If you are affected by the sweet tooth disease, you could spread honey on it …