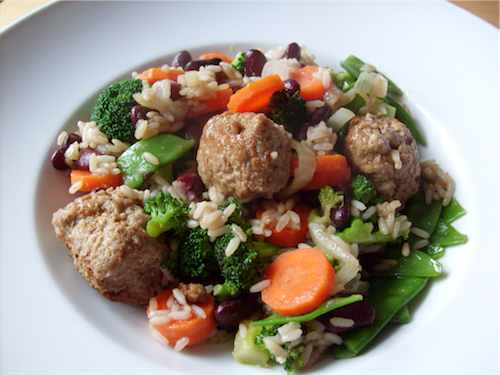 You could make this into a totally vegetarian dish; however, heed Dr. Tiggemann's advice: There is no vegetarian meal that couldn't be improved by adding dead animal.
Ingredients:
rice
several vegetables, like broccoli, carrots, beans, peapods, what have you
cooking oil or lard
onions
soy sauce
meatballs (semi-optional; you need meat, and one egg)
Calories:
You could prepare this as a purely vegetarian dish, in which case it would sap all your energy. You could, however, add meatballs, in which case you could attempt to go running in order to burn some calories. I prefer the latter.
Preparation:
Before the rice can be fried, it must be cooked. The vegetables should be cut into bite-sized pieces and cooked for one or two minutes, too. If you like to add meatballs, you can prepare them in the meantime.
Put cooking oil or lard into a frying pan, heat it. For meatballs, mix minced meat with one egg. Add salt and some hot spice (ground pepper or chili sauce). Form balls and fry them in the pan. Take them out.
Ensure that still enough fat is left in the pan. Add onions, fry. Add the rice, fry. Add the vegetables, fry. Add meatballs, pour some soy sauce over the dish, serve.
Notes:
Schnitzel month is over. I guess this month is going to be rice month.
Enjoy!