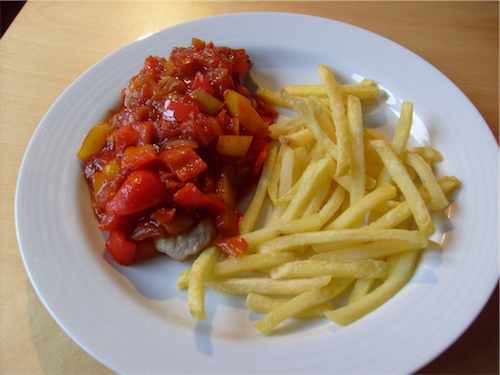 Ingredients:
lard
pork cutlet
onion
broth
garlic
bell peppers
tomatoes
vinegar
starch
Calories:
It's pork; however, mitigated by bell peppers; still, lots of calories (especially when you serve french fries as side dish). So, go running.
Preparation:
Heat lard in a frying pan. Fry the pork cutlet on both sides, take it out and wrap it in tinfoil. Put diced onions in, fry. After a minute, add some broth. Add diced bell peppers. After half a minute, add diced tomatoes. Add a dash of vinegar. Boil the liquid down. Thicken consistency with starch.
Put cutlets on plate, pour sauce over it. As side dish, serve french fries.
Notes:
Use bell peppers of different colors in order to make the sauce more colorful. You can add some hotness by adding a chili, but not too much.
Enjoy!