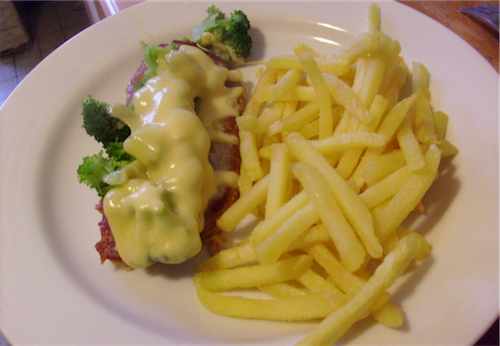 Quick and easy.
Ingredients:
lard
pork cutlet
broccoli
cheese
Calories:
Well, it has broccoli in it, which has nearly no calories. However, there is still the pork and cheese …
Preparation:
Boil water in a pot. Put the broccoli in it, just for two minutes. Then strain it.
Heat lard in a frying pan. Fry the pork cutlet on one side, turn it round, wait a minute, put broccoli on top and a slice of cheese. Cover pan with a lid. When the cheese has melted, put cutlets on plate, without dropping broccoli and cheese. As side dish, serve french fries.
Notes:
This is nothing for die-hard carnivores: it has broccoli in it! Shock, horror! However, the cheese and pork mitigate this.
When choosing the cheese, go for a real one, not the synthetic crap that is sold for the specific purpose of being melted. Choose an old gouda or something like that. The more flavor and character the cheese has, the better.