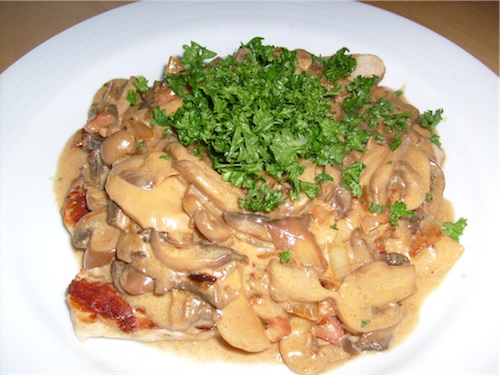 Ingredients:
lard (I'd rather eat lard than go vegeterian)
pork cutlet
bacon
onions
mushrooms
cream
parsley
broth
starch
Calories:
It's pork, with bacon and cream: probably quite a lot of calories, right? Right. Well, 'tis the season to act on your new year's resolution; go running.
Preparation:
Heat lard in a frying pan. Fry the pork cutlet on both sides, take it out and wrap it in tinfoil. Put diced onions and diced bacon in pan, fry. After a minute, add mushrooms. Fry another minute. Add some broth, and quite some cream. Boil the liquid down. Thicken consistency with starch. Add pepper to taste.
Put cutlets on plate, pour sauce over it. Garnish with chopped parsley. As side dish, french fries are traditional, or you could use rice. Or just skip the side dish, and eat more pork.
Notes:
Some people get religious over ingredients; everything must be fresh, and of highest quality. While higher quality ingredients mean better results, there are some areas where differences are neglegible, and others, where they're not. For example, for this recipe you could use mushrooms out of tin cans, instead of fresh ones – it wouldn't matter much. However, fresh parsley is indispensable (it's ridiculous that a thing like dried parsley is even offered in supermarkets). So, as always in life, apply common sense.
Enjoy!