This is getting ridiculous: I am under Attack of the Strangely Devoted Ladybugs. Currently I have more than a dozen of them in my working room, even after gently evicting another dozen using a sheet of paper. And it is quite hard to get them onto the paper without harming them – they seem keen on staying.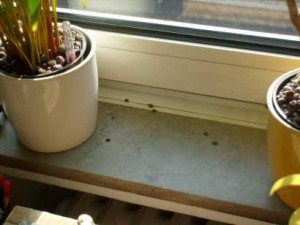 They are entering through an open window, but refuse to leave on the same way. Oddly enough, this started simultaneously to the worldwide financial crisis – am I a lender of last resort? Did they fly the whole way from Iceland?
Normally, I would squash real-life bugs as I would bugs in my programs, but I have a soft spot for ladybugs, as a team of these hard-working Coccinellidae once got rid of all the plant lice which had afflicted my strawberries. So I owe them one.
But how do I keep them from bugging me?